Posted by A. Caleb Hartley
on May 21st, 2008 filed in
car
,
hybrid
,
miles per gallon
,
transportation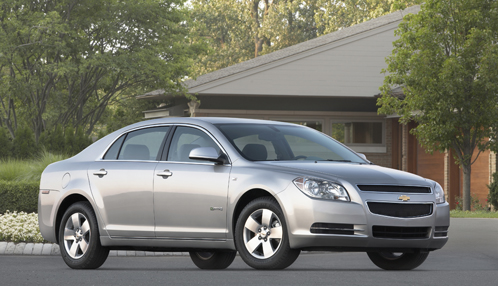 General Motors has introduced a hybrid Malibu. Sounds like America's largest automaker is finally getting it, huh? According to reports about the vehicle, it is solid competition for the Toyota Camry or the Honda Accord, both its direct competitors.
A standard Chevy Malibu is rated at 22 miles-per-gallon (MPG) in the city, and 30 MPG on the highway. The Hybrid version Chevy is now producing gets…
wait for it…
24 MPG in the city and 32 MPG on the highway. Yes, you read that right – today, with oil prices reaching a new record of $133 per barrel – General Motors' hybrid version of one of their most popular vehicles obtains a whopping TWO MPG more than the standard version. I'm going to take a wild guess and say that a feat such as this could have been obtained much more simply than by adding a hybrid drive. Also, there are "standard" vehicles that match, exceed, or even kick the crap out of the Hybrid Malibu's MPG rating – like, for instance a STANDARD Honda Accord, or a STANDARD Toyota Camry.
So I say – "Way to go GM!" Way to show the world that you are no where near ready to answer the issue of skyrocketing oil prices and help drivers with vehicles that make it not only more affordable to fill the tank, but maybe even are powered by something other than oil.
While I appreciate the gesture of bringing another hybrid to market – GM is greenwashing their product line without pissing off their oil company comrades by actually making any significant improvements.
Blah.
Namaste,
A. Caleb Hartley
---
How do you feel about the minute improvements made by hybridizing the Chevy Malibu? Do you think it's greenwashing? Do you think it's a valid first step for GM to really improve its vehicle offerings? Flood the comments with your opinions… maybe GM will even hear you!